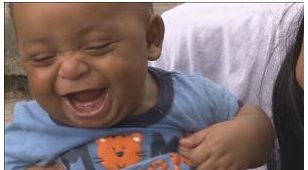 When parents Jaleesa Martin and baby Messiah's father couldn't agree on the last name for their 7-month-old baby boy, Tennessee Child Support Magistrate Lu Ann Ballew surprised them by ordering them to change their baby's first name as well, from "Messiah" to "Martin." She explained, "The word Messiah is a title and it's a title that has only been earned by one person and that one person is Jesus Christ."
As if this child support magistrate doesn't come off dumb enough with her ruling, she doesn't even know the source she's citing. (I admit I had to look it up, but I'm not making illegal rulings based on my ignorance.) In the Bible, Messiah means anointed or anointed one, Lu Ann. The term was used way back then to denote kings, who were anointed with oil, but also included Israel's high priests and prophets. So, Lu Ann, even way back then the "title" Messiah was not just for Jesus. And literally ages later, Messiah has become No. 4 among the fastest-rising baby names as of AD 2012.
The misguided magistrate's ruling also took away the apparently single mother's right to have her surname be at least part of the baby's surname, as the magistrate mandated that "Martin" be the baby's first name. At least she didn't order this mother to be stoned.
Not surprisingly, Jaleesa Martin is appealing this so-called judge's ruling.