Okay, kiddies, it's time for me to update the naughty Christmas cards and gifts post. Although you can personalize most if not all of these cards and gifts and make them as dirty or clean as you like, if you want to browse similarly offensive products on the rest of Zazzle's site—and I know you do—be sure to turn off the safe browsing/content filter that's on the bottom of the left sidebar on any shop's homepage.


The inside of this card is blank, so you can expound on this topic if you like:
Wow. This card made even me cringe. That's why I've gotta show it to you.
And the inside of that card:
But you really can't leave religion out of Christmas. It wouldn't be right.
Now what are you going to get all those moochers on your list this year?
I'm not a doctor but I think this reindeer should see a urologist.
And this is a wrap.
I hope these put you in the proper Christmas spirit. And this is where some previous entries begin:
And here's the inside of that card:
If you or someone you know is offended by the word "fuck" spelled out, we have a somewhat "nicer" version of Bah! Humbug! Santa available:

Or how about a Christmas tie that looks like tasteful graphic of a Christmas tree on a dark blue background, but on closer inspection sports a smartass "Bah! Humbug!" across the tree. Nice.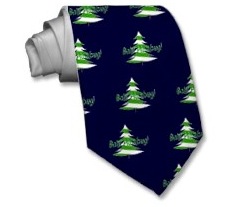 See that tie and more Bah! Humbug! T-shirts, cards and gifts.
In this irreverent card, Mary and Joseph get real.
Naughty and nice . . .
We have two versions of this card–the first one:
And the second one:
Looking for something that's both funny and green? How about this one . . .
Looking for something out-of-the-ordinary for your holiday party? Of course you are. Anybody can be tasteful, but how boring is that? Look at these funny, irreverent coasters . . .
So, who got stuck with the cooking? Try these on for size.
The apron below says, "I Like Vegans (wrapped in bacon, sprinkled in brown sugar, and baked until the sugar is bubbly)."
Don't forget to accessorize.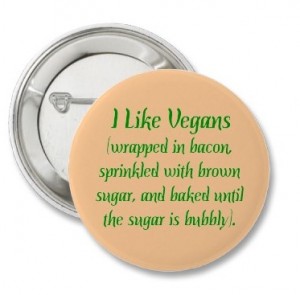 See more funny buttons and other accessories here.

How about some tasteless Christmas ornaments?
That's all for now, Kiddies. More tomorrow.