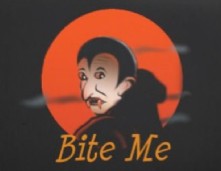 Why should kids have all the fun on Halloween? Unless your idea of fun is to try to watch TV while getting up to answer the door every three seconds, you have two ways to have fun on Halloween: Make your house look so scary that kids are afraid to ring your doorbell—this has worked for me—or put a trough of candy outside and put the kiddies on self-feed while you party your ass off. So here it is—your 2015 Adult Halloween Party Supplies and Decor Collection.
Adult Halloween Party Invitations (plain white envelopes included) :
And the back:
And the back:
And the back:
And the back:
And the back:
And the back:
And the back:
And the back:
And the back:
And the back:
Now how about some Halloween Napkins for those sloppy guests of yours:
Okay, are you ready to put some lipstick on that pig? How about some tacky, I mean scary Halloween decor? (So sorry about calling your lovely home a pig; I was projecting.)
Hide, protect and/or dress up your table with a festive Halloween tablecloth.

Halloween Party Plates (or something "festive" to feed your family on so you don't have to do dishes):

Halloween-Themed Place Mats:

Halloween Serving Trays (Guess which one has a picture of your mother-in-law.):

Some cool Halloween Throw Pillows You and Your Guests Can Pass Out On:

If you're lucky, the party and resulting mess may be at someone else's house. If so and it's BYOB, remember it's embarrassing for everyone if you let your wine go to the party naked.
Didn't find what you were looking for? Our new Vices and Verses T-Shirts Cards and Gifts has more than 15 Million cards and gifts for every occasion with new products added every single day. Come by and use our search box to find exactly what your little heart desires.
This blog contains my own products plus affiliate links to products I think you'll like. If you purchase something via an affiliate link from this site, I may receive a paltry compensation.