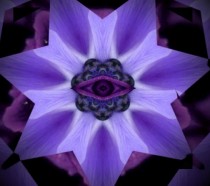 Winter's fifty shades of gray are holding me captive. I feel beaten down. I find none of this even the least erotic.

So I plan to drive this gray away with a bucket of paint. I'm thinking purple. A purple powder room. But not just any shade of purple. I need to find just the right shade of purple–red-violet. After all, the sooner I get that perfect shade of purple on the walls, the sooner I can get tired of it and start the process all over.
I am a serial decorator. And one of my favorite Websites for gathering ideas for this compulsion is Houzz.com. Can I tempt you to look at some these luscious rooms with me? You can always leave if you don't like it. No contracts. You don't even need a safe word.

Someone said this first paint color is Vigorous Violet 6838 Sherwin Williams paint color. But to me, at least on my computer, it looks more like Kimono Violet 6839 Sherwin Williams paint color.
Below is a swatch of another shade of purple I like. It's Elderberry Wine CSP-470 by Benjamin Moore.
I want to eat this color. I like paint colors that make me want to merge with them, dance with them, or eat them. But maybe it's too soon to talk of these things.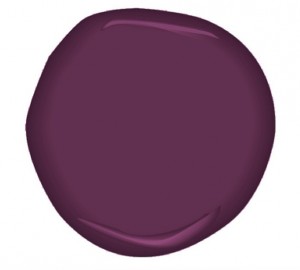 Another beautiful room, but it's a bit more sedate than what I'm looking for—if purple can be sedate.
This one's yummy. I first thought the sofa was silver but now I see lavender and blue in it. Reflections? Paint color might be Valspar's Purple Rain or Sherwin Williams Dewberry.
Soooo decadent. I would eat this color right off the walls if it weren't for the flocking, which I imagine would be kind of like licking an unpeeled peach. But still . . . love this color.
Okay, I've gotten a little sidetracked here with the black and white with pops of yellow.
You know the kid that lives in this room does not even appreciate this view. And there are probably no fewer than 86 pedophiles' telescopes trained on that window.
Okay, I had to post this one, not only because of the pretty violet wall color but because I have a question: is that a window on the far side of the bed that looks into the en suite bath? And is that in lieu of a flat screen or what? Okay, that's two questions. Any takers?
The ceiling here puts the purple in the shade—no, that is not a clever/nauseating play on words, just an accident. Look at that floor. It looks like an Escher drawing. Seriously. Look at it.
So what goes with purple? I've seen a lot of silver and gray. But I can look out my window and see gray, and I don't want to merge with it or dance with it. And I certainly don't want to eat it. It reminds me too much of what's already in my refrigerator.
If you don't really want to paint a room purple but like the color purple, try one of these purple T-shirts, cards or gifts:
Here's the inside of the card: